25/04/2016 - 29/04/2016
17:00
IIM, Technická 2
Mobile Radio (Knut Aufermann), Tommy Martinez, and Martha Mooke
Workshop organized in association with the Agosto Foundation and the vs. Interpretation festival as a follow-up to the Pulsee summer school.
The one-week workshop targets multiple technological and artistic facets of sound and music. The first two days are dedicated to exploring alternative models of radio signal transmission, and to experiments with sound feedback and improvisation. The lecturer Knut Aufermann engages, together with Sarah Washington, in research, creation of special broadcasts and radio sound installations, as well as organization of circuit bending workshops for various culture and community institutions, music and new media festivals around the world. He is also a co-founder of the international Radia FM network of independent radio stations.
The second part of the programme is dedicated to the creative use of software applications for 3D spatial sound combined with the image. The workshop will be conducted by music composer and viola player Martha Mooke together with musician and programmer Thomas Martinez. Martha Mooke in her work fuses classical and electronic music, uses digital technologies and improvisation. Martha Mooke's matinée on 29 April at 3PM will present the world premiere of her new programme which will be repeated in New York.
Lecturers
Knut Aufermann
Born in 1972 in Hagen, Germany, Knut Aufermann studied chemistry, audio engineering, and sonic arts at Middlesex University, London. From 2002-2005 he was the station manager of Resonance 104.4 FM in London. Now active internationally as a radio artist, musician, organizer, curator, consultant, and workshop leader, he plays improvised electronic music using various forms of audible feedback. Aufermann and Sarah Washington run the project Mobile Radio, investigating alternative means of radio production. Their works have been broadcast on more than 50 radio stations across the globe as well as in gallery contexts, including the 30th São Paulo Biennial in 2012. Aufermann is a co-founder of the international Radia network of independent cultural radio stations. He is the artistic director of Radio Revolten – International Radio Art Festival in Halle (Saale).
Martha Mooke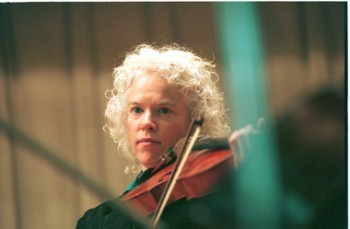 Composer and electroacoustic violist Martha Mooke is a pioneer in the field of electric five-string viola, transcending musical boundaries by synthesizing her classical music training with extended techniques, digital effects processing, and improvisation. A Yamaha, Eventide, and Thomastik-Infeld Artist, she is a leading clinician on electric and progressive approaches to string playing. Mooke has toured with Barbra Streisand, Peter Gabriel, Damon Albarn, Marco Antonio Solis, Andrea Bocelli and Star Wars in Concert and has performed with Sir Elton John, Bon Jovi, Moby, Enya, Tony Bennett, John Cale, the Orchestra of St. Luke's, and others. She has appeared on The Tonight Show, Regis Live,The David Letterman Show, The View, Late Night with Conan O'Brien, and The Rosie O'Donnell Show. Mooke is founding violist and Artistic Director of the Scorchio Quartet, which has performed with David Bowie (and played on Bowie's HeathenCD), Philip Glass, Patti Smith, Iggy Pop, Lou Reed, Michael Stipe, Regina Spektor, Moby, Trey Anastasio, and Ziggy Marley. ASCAP, Meet the Composer and Arts International are among the many institutions to have awarded Mooke for her work. Her solo debut Enharmonic Vision and CD Café Mars (as one-half of the duo Bowing with Randolph A. Hudson III) have attracted wide critical acclaim. Her new solo CD, No Ordinary Window, is produced by multi Grammy-winning producer Cynthia Daniels.
Thomas Martinez
Thomas Martinez is a NYC based composer and improvisational guitarist from Los Angeles, CA. He is the recipient of the Jacob Druckman Memorial Prize for "innovation in music composition' and has given instruction on practices in digital media at Harvestworks and Stonybrook University.Hhe performed in a group ensemble for Christian Marclay's Retrospective at the Whitney Museum of American Art. His work consists of multi-channel sound installations, compositions for guitar/interactive dance instruments, and audio pieces using digitally processed field recordings.
More on the lecturers on http://mobile-radio.net/ and http://www.marthamooke.com/ and www.thomasjohnmartinez.com
Workshop and Premiere of Martha Mooke's Performance
Workshop targeted at students of IIM, ČVUT, AMU, and other schools dealing with sound, intermedia, new media, and music, as well as other members of the public. Completing the workshop should enable the participants to apply their acquired skills in theatre, sound engineering, and developer practice.
The workshop is organized in cooperation with the vs.Interpretation festival http://www.vsinterpretation.org/, festival of improvised music overlapping with other media.
Martha Mooke's project benefits from the support provided by the Agosto Foundation http://www.agosto-foundation.org/
Technical aspects of the project are realized in association with Harvestworks http://www.harvestworks.org/
Contents of the International Creative Workshop on Feedback, 3D Sound, and Performance
Part 1 – Feedback Experiments
Knut Aufermann
Monday 25 April, 5PM. Introduction. Knut Aufermann's talk on the use of feedback and radio frequencies in arts.
Tuesday 26 April. Two 3-hour sessions with lunch break, 10AM–5PM
Knut Aufermann will introduce the participants to the use of feedback and a standard radio receiver. Participants are asked to bring a battery-operated transistor radio. Please be advised that the experiments may damage the device.
Part 2 – Space Sound and Video – Interactive multichannel sound technology and space
Wednesday and Thursday (27–28 April)
10AM–2PM
Martha Mooke with Thomas Martinez will introduce the participants to building their own sound software that can be used among other things for interactive installations and live performances. The popular MaxMSP and Pure Data environments make it possible to build your own instruments and explore the possibilities of spatial sound and a multichannel system. The Unity Game Engine software will be presented as a method of employing live sound in visual media.
World premiere of Martha Mooke's performance on 29 April at 3 PM comes as a part of the workshop.
Workshop participants are asked to bring their own PCs with the Max MSP (www.cycling74.com), Pure Data, and Unity3d www.unity3d.com applications installed.
Apply by e-mail to mikulka1@fel.cvut.cz or on the website www.iim.cz
Registration fee including participation in both workshops and Martha Mooke's performance is CZK 500. Students of CVUT and AMU for free !! Attending only one of the workshops is possible.
PLACES ARE LIMITED!